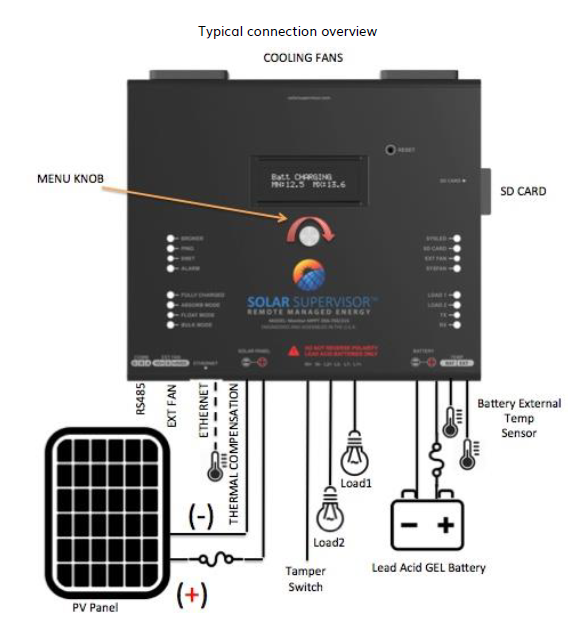 Product Description
Many markets require the deployment of small-profile, low-power-producing solar systems. Solar systems are usually deployed to power equipment such as sensors, telemetry radios, data loggers, process control equipment, video cameras, and so on. The high cost of delivering typical 110vac house power to a remote site is cost prohibitive.
The challenge is to provide uninterrupted power to remote critical sites, and balance the sizing of solar panels and the number of batteries to maintain power through various conditions. These conditions might include bad weather, sustained low-to-no sunlight,, and the changing dynamics of the user adding equipment over time.
Today, the practice of calculating or determining the size of a solar panel and the number of battery amp hours is a "paper exercise", where a user determines the estimated power load on the system, geographical locations to determine weather patterns and solar exposure, and the desired and required days of autonomy. This process is static, is an estimate, and does not allow for dynamic changes such as aging solar panels, aging batteries, the adding of equipment over time, and the natural process of charging and discharging cycles.
The need is to overcome:
✓ UNPREDICTABLE UPTIME
✓ LACK OF SYSTEM PREFORMANCE AND VISIBILITY
✓ UNKNOWN POWER DISRUPTIONS
✓ UNKNOWN STATE OF CHARGE
✓ UNKNOWN HOURS OF AUTONOMY
✓ PREMATURE BATTERY FAILURE
✓ DAMAGING DEEP DISCHARGING OF BATTERIES
✓ STATIC SYSTEM DESIGNS FALURES BY DYNAMIC SYSTEM ATTRIBUTES
✓ TECHNICAL ROLLOUTS
What's in the box (kitting)
FreeWave supplies ONLY the following items/products as part of a complete kit:
1 X MPPT 20A solar monitor/charging controller
2 X temperature sensors: External and Battery
1 X SD card for data logging and event capture
Nothing in the user manual should be construed or leave the impression that FreeWave will provide items outside of the preceding list. Anything mentioned within the manual outside the preceding list is sold separately or provided by the customer..
How to read the model number
The model number consists of a series of characters and numbers to identify the series type, communications type, charging amps, CPU BOARD revision number and MPPT BOARD revision number.
For example:
Monitor MPPT IP 20A-702/215 is a (Monitor) with a (MPPT BATTERY CHARGER) and supports:
(IP which include Modbus TCP, MQTT and embedded Web Page) the (CPU BOARD is REV 702) and the (MPPT Charge Board is Rev 215)
The MPPT 20A controller comes in two models:
Monitor MPPT IP 20A-702/215 Ethernet Version (No RS-485 Serial)
Monitor MPPT RTU 20A-702/215 MODBUS RTU RS-485 Serial version (No Ethernet)
Warranty
Warranty of Products. FreeWave warrants to the CUSTOMER only that the Product is free from defects in workmanship or materials, under normal use, for one year following the date of its original purchase. No other warranties express or implied shall apply.
PDF Documents for the Solar Supervisor product line: