MM3-T small form factor OEM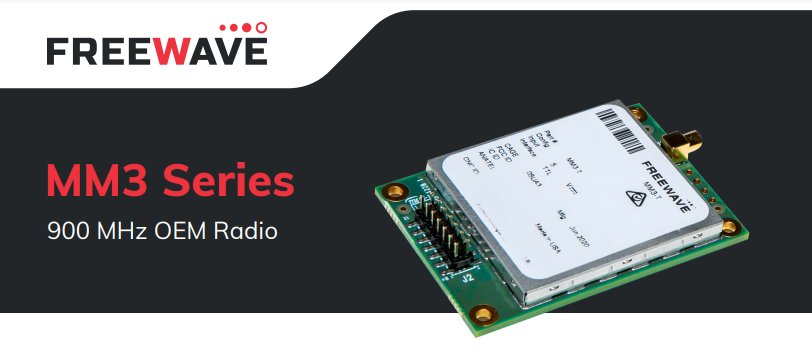 Our MM3 OEM is a group of small-but-powerful radios with the same functionality of its larger counterparts.
MM2 .vs. MM3 Products
Board Level Unit, serial TTL
The MM2-T and the MM3-T are directly compatible with each other. Any model based on these, if serial, are also compatible.

Customers should purchase MM3-T instead of MM2-T/MM2-T-U.

MM3-T replaces MM2-LV-T as it's front end supports a wider voltage range natively 1.8v-5v. There is no need for a separate LV model due to the voltage ranges supported.
MM3-MR
These are backward compatible with MM2-MR-R.
Board Level Unit, RS-232 Only
The MM3-MR operates over a DC voltage range of 6-30 volts DC.
MM3-P-T
MM3-P-T– (the Ethernet version) An engineering project is in flight to replace MM2-P-T, No date yet for when this will be available.
Encryption Option limitations
Encryption is installed during the FreeWave Manufacturing process. There is no way to enable encryption in the MM2 radios in the field If the customer did not buy this option and want to enabled after receiving the radios, then the radios will need to be RMA'd and a PO/SO put in to add the encryption feature to the radios.

MM2 Recommended Mating Connectors
The following is a list of recommended mating connectors for the MM2 900 MHZ OEM products.
Most of the connectors on the boards are Samtec connectors. You can access their website at the following link to find mating connectors for the items listed below. If you enter the connector PN on the board in the website search, the page will display compatible mating connectors for it down the page a bit.
MM2-T & MM3-T & MM2-LV:
Has a Samtec TMM-107-01-G-D-SM-A-P-TR connector.


Compatible Samtec mating models (CLT, ESQT, MMS, SMM, SQT, SQW,TCSD, TLE)

NOTE: the TCSD is a cable with the connector.
Limits and Caveats
General Limits and Caveats
RSSI pin (pin #6) on MM2-T is non-functional. The same goes for the MM3-T.
The Signal and Noise filtering on the MM3 is not as good as the MM2 radios. It is similar to the issues with theFGR3radio. When running Network Diagnostics, the graph will display much more variability in the Signal and Noise than anMM2. This is to be expected, but the functionality should be the same. If an MM2 worked so should an MM3. However, we would recommend an MM2 as a Master radio versus an MM3 because of this issue, if possible.
No RS-485 Support in any of the MM2/MM3 Radio Models

None of the MM2 products will do RS-485. All the interface boards available for the MM2 product line are either TTL or RS-232.
Product

MM2-LV-T
MM2-LV-T-CC
MM2-LV-T-LF
MM2-LV-T-U
MM2-LV-T-WL


2 Years
(EOL Jan 2022)
MM2-MR-R
MM2-MR-R-SR
MM2-MR-R-SR005
MM2-MR-R-U
2 Years
(EOL Jan 2022)
MM2-MR-T
MM2-MR-T-U
2 Years
(EOL Jan 2022)
MM2-P-T
MM2-P-T-DVKT**
MM2-P-T-SR007
MM2-P-T-U
MM2-P-T-U-SR001
2 Years
MM2-T
MM2-T-DVKT**
MM2-T-LF
MM2-T-RX
MM2-T-U
2 Years
(EOL Jan 2022)
MM3-T
2 Years
FreeWave Tool Suite Management software for the MM2/MM3:
Note: Tool Suite is NOT required for the MM series of radios, since most OEM's will write their own software interface into these units to configure them. But the Tool Suite could be helpful for first time users developing a product using the MM Series of radios.
FreeWave complimentary radio network management software
You can download Tool Suite 2.11.3 and its User Manual from the below link:
Password (for this week's download link):

NDder1g8YD

Login will be your email address
Note: The system this is installed on must have Internet access during the installation, since the installer pulls libraries from the Microsoft site.
PDF Documents for the MM2/MM3 Series of radios: