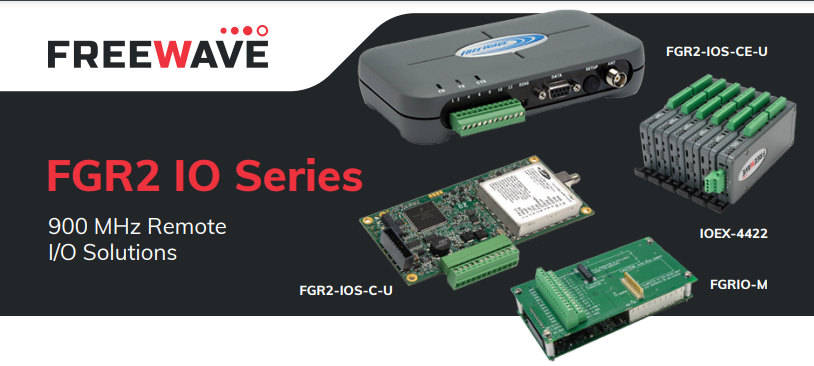 Master 900 MHz Radios

Slave 900 MHz Radios

FGR2-C / FGR3-C

FGR2-IO-S

FGR2-CE / FGR3-CE

FGR2-IO-IOE

FGR2-IOS-CE-U
FGR2-IOS-C-U
FGR2-CP (EOL)
FGR2-CP-S (EOL)

Master 2.4 GHz Radios

Slave 2.4 GHz Radios

I2-IOM

I2-IOS

GX-CE
GX-C
All models can operate in one of two modes: Modbus and Wire Replacement.
In the Modbus mode, all models can be directly connected as

an I/O peripheral to a SCADA network.

For wireless replacement mode, FGR2-IOS and FGR2-IOE can

operate as a slave connected to an FGRIO-M master.
The enclosed version also includes switchable and protected resistors for convenience when using 4-20 mA sensors.
All AIs are reported as integers and floating points.

Pulse counting DIs allow detection and accumulation of pulses

up to 1 kHz.

Data port allows simultaneous operation as a Modbus I/O device

and radio slave or repeater.

Single register access to 16-bit AI value, two-register access

for full 20-bit accuracy.

Protect systems in event of communication loss with programmable

failsafe output states.

DOs control up to 60 W each and have optional pulse-output

protection intermittent rated loads.
These products are also expandable with the IOE-4422 I/O Series. The FGR2-IOS is UL Class I, Division 2 approved.
Modbus to the FGR IO radios
The following FGR IO radios will allow Modbus communications thru the serial data connection and/or the RF connection:
FGR2-IOS-CE-U
FGR2-IO-IOE
End of Life Notice:
END OF LIFE : FGR2-IO Series
FreeWave can no longer obtain the component
parts necessary to build or repair these models.
Product Affected: FGR2-IO Series
End-of-Life Date: May 31, 2023
Models Affected (including all configurations):
FGR2-IO-IOE
FGR2-IOS-CE-U
FGR2-IOS-C-U
FGR2-IOS-C-U-S
FGRIO-M
FreeWave Tool Suite Management software for the FGR IO Series of Radios:
FreeWave complimentary radio network management software
You can download Tool Suite 2.11.3 and its User Manual from the below link:
Password (for this week's download link):

NDder1g8YD

Login will be your email address
Note: The system this is installed on must have Internet access during the installation, since the installer pulls libraries from the Microsoft site.
PDF Documents for the FGR IO Series of radios: