Understanding Data Plans and Dashboards
In the past, FreeWave customers would pay one amount to cover all subscription costs. (NB: Data overages excepted).
Beginning in February 2022, new and renewing FreeWave customers will see their bills and invoices show separate line items for the Data Plan component and the Dashboards.
The Data Plan component refers to the subscription provided to the customer by FreeWave which allows for data transfer between the Fusion Mini and the FreeWave Portal. Think of it like a monthly cell phone plan. Like a cell phone plan, there are a limited number of messages/amounts of data provided by the plan.
The Dashboard component refers to the data analysis and displays available on the FreeWave platform
Why split it up?
As IoT grows around the world, many businesses are using multiple IoT providers for different parts of their business. instead of logging into multiple dashboard and portal systems to view data, many companies are using platforms like Rayven, Losant, Blynk or Thingsboard to aggregate data from multiple systems.
By splitting up the Data Plan and the Dashboard, FreeWave offers businesses the ability to pay for the Data Plan and then use webhooks to forward the data received by the FreeWave Portal to their own platforms.
You can read more about Webhooks here: About Webhooks – FreeWave
If only the Data Plan is paid for, Dashboards are not available.
Accessing Dashboards
Access to Dashboards is controlled by FreeWave Support.
If you or your business has only paid for a Data Plan, then Dashboards are not available and you will see the below.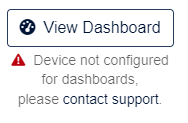 You are still welcome to try the Dashboards for 14 days, but will still need to contact FreeWave Support to get these enabled.
If you or your business has paid for Dashboards, these will be configured by FreeWave during the pre-sales phase.
For both trials and new dashboard subscriptions, on the first login, the Dashboards will need to be enabled by the user to either use them or to start the trial.
Select Try FreeWave Dashboards and then select the device you wish to enable dashboards for and this will enable Dashboards for that device.