How to add/change Tank dimensions to show Tank graphs
By default, Fusion Mini's set up to measure tank volume has no tank information like depth and area configured.
If a Fusion Mini is deployed with a hydrostatic pressure sensor but the tank details are not added, the tank graph will not show on the dashboard.
However, the Fusion Mini is still transmitting the hydrostatic pressure of the liquid in the tank.
How to Add or Change Tank Dimensions
Log onto the FreeWave Portal
Navigate to Devices > Devices
Your Fusion Mini(s) will be listed
To the left of the Fusion Mini information for the Fusion Mini you wish to change, click on the Edit icon
Under Water Tank fields, you will see two fields:

Tank Depth (m)
Tank Cross-Section Area (m2)

You will need to know your tank depth and also the diameter (or radius multiplied by 2) of the tank
You can use a website like https://www.omnicalculator.com/math/cross-sectional-area and select Circle from the drop-down (as per below) and enter the tank diameter to attain the cross-sectional area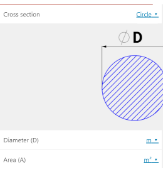 NOTE: The FreeWave Portal allows you to change from Metric to Imperial through your user preferences located at My Account. Whilst you can change these values to Imperial, the tank visualisation is currently hard coded to litres.
Once entered into the FreeWave Portal, click Save.
The graph should now appear.