WC40i Modbus Wireless IO System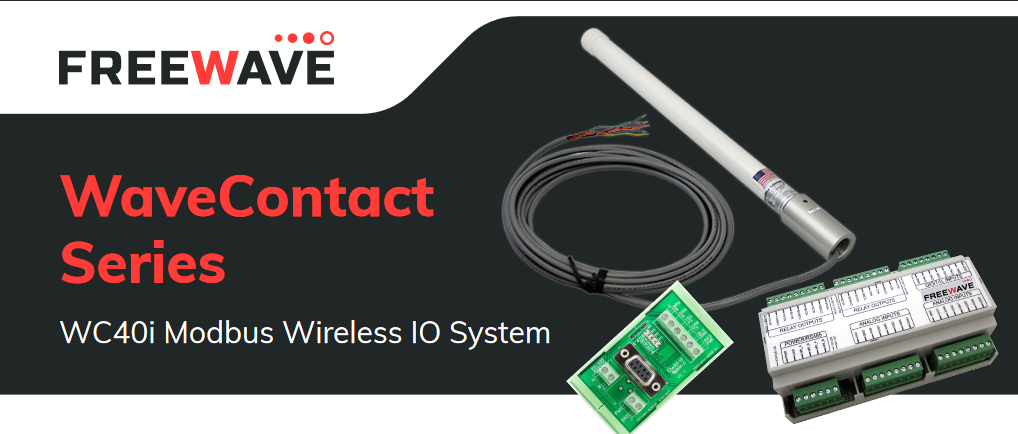 Rugged, Simple, Flexible



The WC40i-MB adds a wireless interface to remote Modbus devices for use in WaveContact systems.

Addition of an optional IO module enables interfacing with analog or discrete instruments and controls, while the Remote Shutdown Module allows for easy control of remote wellheads with failsafe control. The WC40i-COUNT is designed to interface with instruments and meters with discrete outputs and can count pulses up to 2 kHz.

Without making any sacrifices on ease of setup or installation, the WC40i is the most flexible endpoint in the WaveContact lineup. Combined with a WC45i Gateway, the WC40i can be used with any remote Modbus RTU device which supports RS485 communication. The optional IO module allows for continuous monitoring of 8 analog inputs, 6 discrete inputs, and control of 2 SPDT and 2 DPDT relays. The RSD module is purpose-built for control and monitoring of shutdown valves on wellheads, and in the event of an ESD situation or loss of communications can shut a well in if desired.

In any configuration, the WC40i can be used as a repeater node as part of the self-organizing, self-healing WaveContact system, and can help extend the reaches of a network in challenging RF environments.
Key Features
Provides a wireless interface to remote

Modbus devices




Messaging forwarding capability




Low power consumption




Integrated high-gain omnidirectional

antenna and gateway electronics




Optional modules add remote IO and

automatic shutdown capabilities




Self-organizing, self-healing mesh network




Simple to install and maintain




Rugged design for demanding outdoor

environments




Up to 4.8 km (3 miles) range




Class I, Division 2, intrinsically safe
Modbus IO Endpoints



WC40i-MB: Modbus Endpoint (RS485) provides a wireless interface to remote Modbus devices.
WC40i-COUNT: Modbus Counter Endpoint, 2DI, provides a wireless interface for remote devices with pulse outputs such as flow meters. Calculates total counts, both instantaneous and frequency since last read, and state.
Interface and Control Modules



WC40i-RSD: Modbus Stick with Remote Shutdown Module provides failsafe remote shutdown functionality at remote sites. A typical application is to shut off a well when one or more remote tanks are filled.
WC40i-MultiIO: Multi IO module provides an IO interface to 8 analog inputs, 6 digital inputs, 2 SPDT and 2 DPDT relays.
PDF Documents for the WC40i Wireless IO System: