WC30i-AXIS Wireless Angle Sensor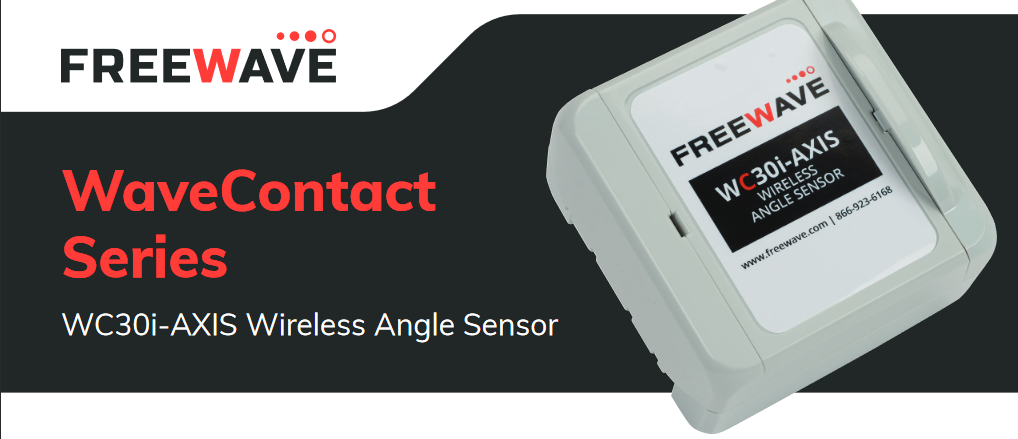 Rugged, Simple, Flexible

FreeWave's WC30i-AXIS Wireless Angle Sensor is a wireless, solid-state inclinometer that measures an angle from horizontal with two modes: Hatch Detection and Pump Jack Detection.

The Hatch Detection mode enables monitoring of the

opening condition (closed, unlatched, opened) of a hatch

for environmental and safety concerns.




The Pump Jack Detection mode detects and reports if it is

operating or moving.



The WC30i-AXIS can also be applied to a variety of other applications where there's a need to detect an angle from horizontal.
The WaveContact System has been designed for deployment in Class I, Division 1 locations.
Key Features



3-axis accelerometer constantly monitors angle

with its internal sensor and reports status when




changes occur

Built-in 900 MHz radio and antenna




Operates as a standard wireless Endpoint in the

WaveContact network




Rugged design for demanding outdoor

environments




Magnetic mounting for fast installation and setup

or with built-in installation holes




Push-button zeroing




Modbus or digital output alarming at the Gateway

is available




Long battery life (greater than 5 years)




Simple installation




Up to 0.8 km (0.5 miles) range




Class I, Division 1, intrinsically safe
PDF Documents for the WC30i-AXIS: